by Michael Sims, 2008 Diplomaticcorp
Overview
The Haven was created to be the greatest Fog of War game of all time. It ran in the spring of 2008, in Once Within a Fog so Dreary.
The Haven was played again in 2009 in a non-fog version in dc224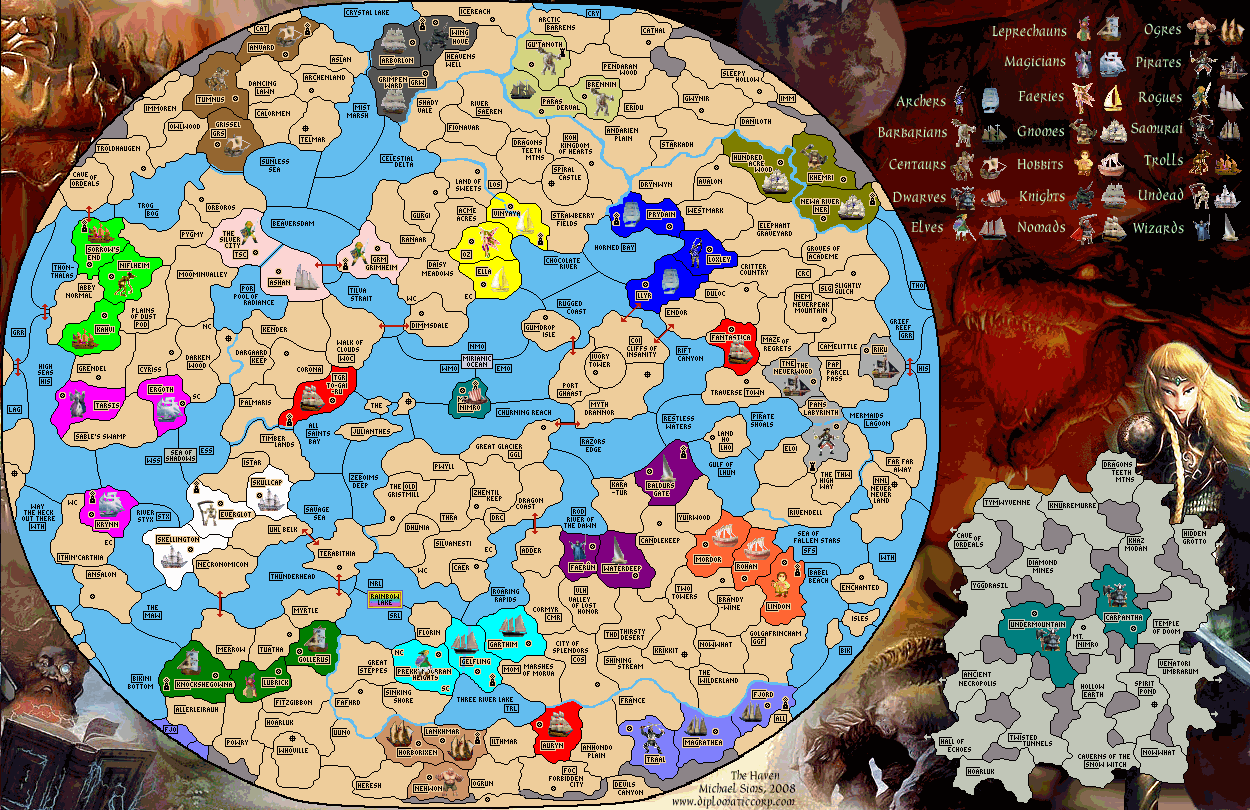 Civilizations
There are 19 civilizations in The Haven. They are:
Archers (blue)
Barbarians (ivory)
Centaurs (brown)
Dwarves (teal)
Elves (cyan)
Faeries (yellow)
Gnomes (olive)
Hobbits (orange)
Knights (black)
Leprechauns (forest)
Magicians (magenta)
Nomads (red)
Ogres (tan)
Pirates (gray)
Rogues (pink)
Samurai (navy)
Trolls (green)
Undead (white)
Wizards (purple)
Victory Conditions
There are 102 supply centers:
57 starting home centers
36 neutral centers
9 special build centers
52 centers are required for a solo victory.
Map Features
As typically happens in games like World War IV, it is usually very difficult to obtain a victory with a majority of supply centers. As nations grow large, it becomes tougher and tougher to keep expanding, and too easy to force a stalemate. The Haven map was designed to change all that, by circumventing normal stalemate lines:
The Underworld
The Haven is played both above and below ground. The underground passages are connected to the overworld at 5 points - one in each corner, and one in the center. The crossover spaces are:
Mount Nimro (center)
Cave of Ordeals (northwest)
Dragons Teeth Mountains (northeast)
Hoarluk (southwest)
Nowwhat (southeast)
A unit in a crossover space exists on both maps, even tho it will only show in the overworld portion. A crossover space is connected (via land, for army movement only) to all spaces adjacent to it in both worlds. For example, an army in Yggdrasil (underground) could support a fleet moving from Thon Tholas (overworld) to Cave of Ordeals (both worlds). But once the fleet occupied the Cave of Ordeals, it could not move into either underground space - only an army could do that.
The Eternal Build Centers
There are 9 special centers on the board, designed to create hot spots and extremely desireable centers to capture. This is because any power may build in one of the 9 eternal build centers! There is no delay in the holding of such a center before it is buildable. If you capture one, you may build there as soon as it becomes vacant in a winter turn. The 9 eternal build centers are:
Telmar (northwest)
Spiral Castle (northeast)
Dargaard Keep (west)
The Julianthes (central / island)
Myth Drannor (central / island)
Never Never Land (east)
Whoville (southwest)
Krikkit (southeast)
Spirit Pond (underworld)
The Rivers
Rivers are marked by blue lines on the map, and function like the standard game canals in Constantinople and Kiel. A fleet may move into a space that contains or is along a river, and may cross thru that space provided it moves to an adjacent space also connected to the river.
Province Names
The names are taken from over 75 fantasy books, movies, shows, games, songs, places, mythologies, fairytales, folklore, and a few of them completely made up. The more you can relate to, the more you were probly a fantasy geek growing up!
---
**** All the rules below this point do not apply to the game currently open.****
---
Fog of War Rules
There are some additional rules that apply when the game is played in the Fog of War
Lighthouses & Watchtowers
Lighthouses and Watchtowers are functionally equivalent - Lighthouses are shown on the map where they are adjacnet to water, and watchtowers are drawn where inland. Either facility watches over the two spaces adjacent to it, and keeps them lit up on every map you receive. This makes it harder to sneak up on these key cities.
If your lighthouse or watchtower is captured, it does NOT operate for enemy occupiers but will stop working for you. If you liberate the city, it would resume operation.
Special Abilities
Each Civilization has one special ability that it can use throughout the course of the game. The special abilities are:
Archers may attack any space from a distance. An archer would order "Archer [source] range attacks [destination]. The order is treated like a normal move order, except the archer does not actually move into the space after completion. This power may be used to attack fleets at sea: Archers on a coast may support adjacent fleets (or fleet moves) at sea. Archers on a coast may also attack a neighboring sea space (as if they could move there) -- if they succeed in dislodging the defender, it must retreat like normal, even tho the archer does not move into the space. Range attacks may be supported like normal by other units.
Barbarians can sense when an enemy army is approaching! Maybe it's a twich in their ear, or a scent carried on the breeze… but any time an enemy army approaches within two spaces of a Barbarian, the player is told that they sense the [number of] units to the [direction]. The specific civilization and province are not revealed.
The Centaurs control an owl. The owl can move one space at a time over water or land. The owl sees two spaces every turn - the space it's moving from, and the space it's moving to. Only VISION is returned, no orders. The owl must remain within 3 spaces of any centaur to relay this information. If an owl strays too far, it will get lost. If the owl gets lost, one centaur may then train a new owl, however training a new owl takes 1 unattacked turn. Owls may only be trained by centaur armies.
Dwarves may convert their fleets to armies or armies to fleets at any time (in coastal provinces only). Converting takes 1 turn, and any attack on a converting unit will cause the conversion to fail.
Any elf that Holds - and is approached by an enemy unit - will be concealed within the trees until such time as the enemy unit attempts to move into the elven province, or the elf moves or gives support. Any order other than holding will reveal its position.
Faeries can fly. Any fairy that takes flight over water must return to land within two turns or it automatically disbands. Faeries may not attack over water -- any attempt to move into an occupied or challenged space fails irrelevent of supports given. Faeries may retreat to vacant sea spaces. Faeries over water may not issue support orders. A fairy move from water back to land may be supported.
The ultimate makers of mischief and mayhem, Gnomes can choose to set booby traps! Setting a trap takes one unattacked turn. Three types may be set: 1) Alert: If any enemy power enters a province with an alert trap, all players within 3 spaces will hear that a [specific unit] was caught in a trap to the [direction]! 2) Snare: If any enemy unit enters a province with a snare, the unit will be rendered immobile for 1 turn! (immobile units may be supported in place). 3) Distraction: This trap does nothing until an enemy unit in a province gives a support order. When this occurs, an explosive surprise causes the support to fail. Once any trap is set off, the space is clear of traps. A max of one trap may be set per province. The Gnome player may not know one of his traps has been set off if he is not around to see it, or close enough to hear an alert.
Hearty and resourceful, Hobbits will make the most of the bad times. Any time one of the Hobbit home centers is in enemy hands, the Hobbits can maintain one more unit than they have supply for. If the Hobbits are reduced to 0 SC, their bonus unit will survive for one extra year, and then be eliminated like any other power.
Knights may charge forward 2 spaces (from A, thru B, to C). The intermediate space must be vacant at the start of the turn. The player must be able to see where he's charging into - one cannot charge thru a province into the fog. If a knight fails to move thru the intermediate space then the destination space is unaffected. A knight will move half-way and stop in the intermediate space if bounced from the final space. Supports may be ordered for the destination move (Army nearby supports Knight A to C -- the route (B) need not be specified in the support). Any activity in the intermediate space will cause the charge to be abandoned, and the move treated like an unsupported move from A to B.
Somewhere... Over the Rainbow, you never know what you'll find! Perhaps a pot of gold, or maybe a band of ogres -- but the leprechauns can choose to find out! In the Spring, one Leprechaun may choose to order over the rainbow. If he does, the GM will randomly select one of the 95 clear spaces on the map. Only vacant spaces, after all conflict is resolved will be considered... and the leprechaun instantly moves there at the end of the spring turn. The leprechaun is considered moved out of the space he originated in, for purposes of considering other moves into that space. The rainbow moves are only available to Leprechauns that are within 3 spaces of a home SC. (rainbows dont just pop up in the murky lands surrounding!) Once a rainbow move has been done, rainbows will not be available for the next two springs, limiting this move to once every 3 years.
The Magicians may peer into their crystal ball once per turn to reveal the contents of any one space on the map. The space must have previously been observed by the owning player -- or at most 1 space into unexplored fog (i.e. Crystal ball peer into the space [direction] of [province]).
The ultimate travelers that call no one place home, Nomads may build in any open (and originally neutral) supply center that they control.
An Ogre may order to Roar! If it does, it will distract all enemies in adjacent provinces - cutting all supports, except supports for an attack on itself. The support cuts are treated as if the Ogre had ordered an unsupported move into all adjacent spaces. A roaring ogre may be supported in place by another Ogre.
When ordering a fleet build, Pirates may build on any of their home centers, or in any sea zone (sea only, not coastal) in which any fleet was disbanded. Once a fleet is "rebuilt" the same one may not be rebuilt again, even if it gets disbanded again. Spaces must be vacant.
A rogue may disguise itself as any other army unit that the owning player has personally observed. To disguise requires a turn in which the rogue does nothing but hold and don its disguise. If attacked, the disguise order fails. Once changed, it will remain as the other unit until it changes to something else. Any disguised rogue that is dislodged for any reason instantly loses its disguise. Only one rogue may be disguised at any one time. Orders reported to anyone who sees a disguised unit move will see them as if they are the disguised civilization.
Samurai armies may conduct a Bonsai suicide attack. A Bonsai attack has a strength of 2 (as if it has an uncuttable support) and is lethal. If a samurai succeeds in dislodging the enemy, the target unit is disbanded, NRP. The attack must be declared with one's orders. Bonsai attacks may only be supported by other samurai - supports from other civilizations are not counted. Bonsai attacks may not be conducted on enemy units in their own home supply centers. After completion of the attack (either success or failure) the Bonsai warrior is automatically disbanded!
Any time a Troll is disbanded, as soon as the space that it was disbanded in becomes vacant, if there is sufficient supply, the Troll may return to life. If there is insufficient supply, the Troll will remain dead in the spot until such time as there is sufficient supply on a winter turn, at which time the Troll player may choose to let the Troll regenerate or build at home. If he opts to leave a Troll dead, it can not then choose to regenerate later. You either regenerate it at the first available time, or it withers away. If a dead troll remains dead for 2 years (4 seasons) either via choice not to regenerate, or due to the space being occupied for so long, then it will be dead forever. Any regenerated Troll is weaker than a regular Troll - it will automatically disband if dislodged, and cannot regenerate again. Any players who are in a space with a dead troll will be told there is a dead troll there, but no further explanation.
The Undead leader may order a skeleton (army) build in any of his home centers, or may attempt to raise any disbanded enemy army on the map. It is up to the undead leader to figure out where units on the board have been disbanded, to know what dead-raising options he has. He may not raise his own skeleton dead armies, only enemy armies that were once alive and have been disbanded. Raised armies are weaker than regular armies - if they are ever dislodged, they disband, NRP and cannot be re-raised.
The wizard player may listen into any one space on the map and learn all orders that affect that space. The space must have previously been observed by the owning player -- not via guess or intelligence.
Realworld
Realworld adjudicator files for The Haven can be found in the Variant Library.
Player Comments