by Douglas Crockford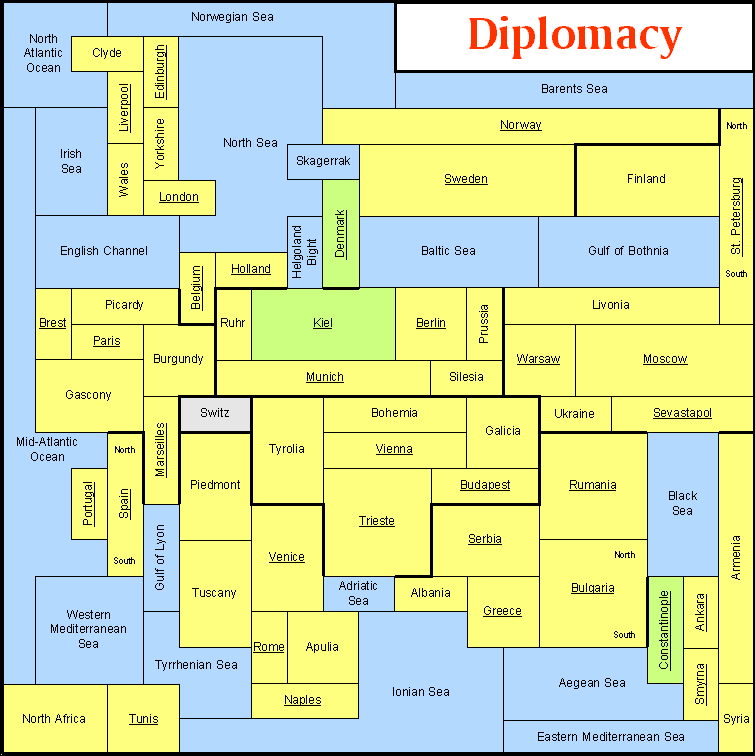 Diplomacy is an excellent social game from Avalon Hill. I wanted to turn it into an online game, but first I had to regularize the conference map of Europe.

The map was made to these rules:
It is topologically equivalent to Avalon-Hill's map.
It is on a uniform grid with vertical and horizontal lines. (This is the most practical form for computer displays.)
All land regions are strictly rectangular.
All regions are at least two units in size. (This rule affects Ankara, Clyde, Helgoland Bight, London, Paris, Portugal, Skagerrak, and Syria.)
No four-corner intersections.

The map reads well on computer displays, and provides better information about the connectedness of regions. For example, it is clear on this map that Norway borders St. Petersburg (although some players have told me that this is not an advantage; apparently they depend on other players misreading the map).